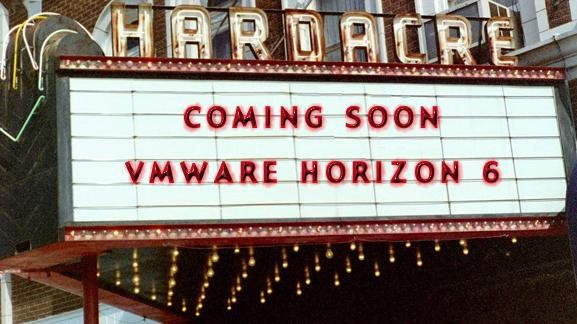 <movie guy voice> In a world… where desktops run amok… </movie guy voice> OK, so that wasn't a typical intro to a technical blog post, but for some reason I'm excited for the summer movies this year. The Godzilla, X-Men and Guardians of the Galaxy trailers have really piqued my interest, so in that vein here is a trailer for VMware's new sequel in End User Computing software, Horizon 6.
The flashback:
If you've never heard of End User Computing (EUC) or VMware View or Virtual Desktop Infrastructure (VDI), here is the quick elevator pitch. VMware View is the management wrapper around Windows desktop virtual machines that your users attach to via various software clients. It allows for a rapid provisioning and management of user's workspaces without the hassle of multi-user software problems like Remote Desktop Services and/or XenApp.
The story:
If you're familiar with VMware's EUC products you'll notice that they've dropped the "View" moniker from (most) of the product's branding. I don't know if I have seen a reason for the name change but maybe they learned a lesson on simplifying their branding after the unfortunately named VMware vCenter Protect Standard/Advanced products.
The new version of VMware Horizon comes in three forms:
Horizon View Standard - licensed by concurrent user

Horizon Advanced - license by concurrent or named users

Horizon Enterprise - license by concurrent or named users
The action cut scenes: (To keep with the movie trailer theme, visualize over-the-top Michael Bay styled, slow motion explosions and fight scenes while you preview the new features)
This is a major release that adds to the features already present in the current View 5.3 release, so I will highlight what is new and noteworthy in this release.
Remote Desktop Server Hosted application support - Horizon 6 will have the ability to serve Remote Desktop Services and Citrix applications in the same end user portal as virtual desktops. This is a very interesting feature because it competes directly with Citrix XenApp's Store Front (Web Interface) and can be used in parallel with XenApp (permanently or as a migration tool).
I think a strong use case for this feature is to install the Horizon Agent on an existing XenApp server and using them in parallel while you migrate away from Citrix. Based on how cumbersome it is to upgrade XenApp versions, I can see why some have dubbed this as "Citrix Killer".
VMware Virtual SAN (VSAN) support - This will likely require a follow up blog post to fully describe what VSAN is and why it is cool, but in short it is a new feature built in to VMware ESXi that allows you to use locally installed spinning disk and SSDs in your server to create pools of storage to use for your VMs--no SAN required. This if very compelling because if you remove the SAN from the cost of a VDI solution you can drive the cost per desktop down into the physical desktop realm.
Unified Workspace - A self-service, customizable web portal that allows you to access your virtual desktops, SaaS and web apps, hosted RDS apps, Citrix virtualized apps, and ThinApp packaged apps (application virtualization) from one location. This can help relieve the pressure on IT when deploying new applications for exiting users or existing applications for new users.
A key component of the portal is VMware's Blast protocol which allows access to your virtual desktop in any HTML5 enabled web browser without downloading a client which is great for quick access or traveling users.
Unified Image Management - Horizon 6 Advanced and Enterprise include the VMware Mirage feature set for managing virtual, physical and cloud-hosted Windows images. This is a relatively new product for us, but the ability to layer applications and settings onto physical and virtual Windows desktops instead of manually installing or configuring them is very interesting and bears further research.
Analytics and Automation - A new version of VMware's Operations Management for Horizon is also coming with this release. If you've never heard of vCOps, it's software that monitors your virtual infrastructure's performance, capacity and health, and then analyzes it for usage trends and future issues. The new version of vCOps for Horizon will simplify the health and performance management of your environment which in turn will help you fix and identify issues faster.
As you can probably tell this is a big product release in terms of new features and product improvement's alone. When you add the competitive element against Citrix's XenApp this becomes an even more important release because it will likely affect how Citrix continues to go to market with their XenApp/XenDesktop products and how customers evaluate and decide between the two competing feature sets.
I have not gotten my hands on the software yet, and I am likely going to have to wait until the product release which is currently slated in Q2 of this year. I that time I will install it internally and have a better idea of how all the bits and pieces fit together.
For current VMware View customers, there are upgrade programs to the new licensing levels so if you are interested in looking at your options, please contact NetWork Center, Inc. and we'd be happy to help you determine if upgrading is right for you.


In the meantime if you are interested in more information I suggest checking out the official VMware Horizon 6 product pages or some additional links for more information.
Links:
Videos:
<movie guy voice> …coming summer 2014, to a datacenter near you. </movie guy voice>