You know "web" and "video" are two completely different words with separate functions and meanings, but you aren't sure how each differs when it comes to conferencing. Could web conferencing be more beneficial than video conferencing? How do you decide?
Tara Patoile from our partner, Pinnaca breaks it down to the core of what each of these solutions mean and how they are used.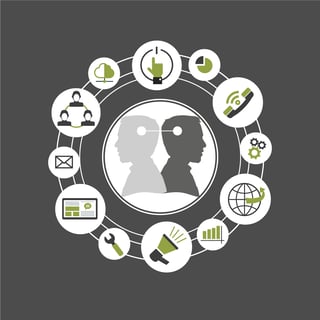 Web Conferencing is typically organized for a large group of people to meet and collaborate. Most commonly, you will notice it is used for webinars, demos and training (more often than not, they are live). Desktops are the go-to device for accessing such events with multiple options for participants to engage from chat functionality to application sharing, such as Microsoft PowerPoint.
Video Conferencing is typically used and accessed by people within an organization, their clients, vendors, partners and remote experts. Depending on the solution – participants can access and join a video meeting from virtually anywhere with an internet connection on their preferred device, from laptops to mobile phones. Collaboration in such a space is typically preferred by all parties and can be easily shared by anyone.
How do you decide which type of conferencing to use? The answer is a bit tricky because web conferencing and video conferencing have blurred lines. Web conferencing applications sometimes include two-way video capability and video conferencing includes collaborative sharing/capability. If you're looking for the best of both worlds, consider a cloud-based service that includes everything you need for face-to-face collaboration.
If you're interested in a solution that has varied capabilities for business use, video conferencing is a safe route to consider as opposed to what web conferencing would offer. Video conferencing typically has more options for higher quality video and more reliable networks for delivering both video and audio. Not only do you get higher quality, you can make video conferencing a multi-faced differentiator for your business, using it in many areas for communicative purposes.
Here are a few examples of how video conferencing can be applied:
Ad-hoc, informal communications
An essential team collaboration tool
Connecting with subject matter experts
Connecting with customers and prospects
Enhanced technical support
An efficient recruiting tool
A powerful tool in education
Revolutionizing healthcare
Still a time-honored travel cost reduction tool
Creative thinkers are using video conferencing to do old tasks in new ways as well as to accomplish new tasks in ways that were not practical before. Companies that include video conferencing and collaboration solutions into their business strategy reap many benefits, including: more efficient teamwork, greater competitive advantages, enabling recruitment and hiring employees without distance constraints, and creating an innovative work culture that appeals to millennials while offering all employees the ability to stay in touch while working from remote locations.
Are you unsure where to start? Pinnaca offers several cloud-based solutions to help grow your visual communication strategy, enabling video users to meet anywhere, any time on any device. Easily join and invite anyone to meet and collaborate, with chat, screen sharing, virtual meeting rooms and more.
For more information on Pinnaca and the services we collaborate on, find their sponsor booth at nVision, our annual technology conference this November. Please follow the link below to register.