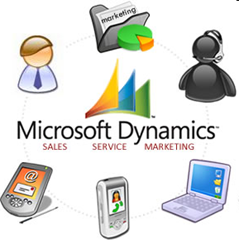 Before we start, I know that dialogs are not a new feature, as they were released with 2011. However, as I go around the country teaching classes and assisting with Microsoft Dynamics CRM projects, I am shocked to see how many organizations are not taking advantage of the Dynamics CRM deployments. It seems as though many organizations have a lack of understanding on what they are, how they work, and what they can be used for in the application. This month I want to provide some insight into dialogs, especially because I see them as something that will really compliment the new Business Process Functionality coming with CRM 2013.
First, let's talk about what dialogs in CRM are and how they are useful. Basically, a dialog is a wizard that you can create to assist users step-by-step through a business process. For example, if your company sets up a new account in CRM and some critical information is missing, the person responsible for capturing that data can launch a dialog that will list the specific fields that data is missing from. There is no need to open the actual record and to try to locate the missing information. Dialogs can also be handy in the call center. You can use them as scripts to guide reps though conversations with customers, and the dialog can trigger other dialogs based on the client's answers, requests, or objections.
Dialog and Workflow Differences
There are a few differences that you should be aware of when working with dialogs. The biggest difference is that unlike workflows, which can be tied to specific events in CRM, dialogs have to be manually initiated by a user on the record you want to work with. This is commonly done by using the run dialog button on the ribbon. It could also be done by adding a custom button to the ribbon to provide one-click access or, in some cases, tying them to the system user entity to assist in record creation. Below is a table that outlines some of the key differences between workflows and dialogs in CRM.
| | |
| --- | --- |
| Workflows (WF) | Dialogs |
| Background Process: Interacts with CRM entities directly. | Interactive Wizard: Entity interaction is based on user driven processes. |
| Executes under the security context of owner of the Workflow. | Executes under the security context of the user who initiates the Dialog Process. |
| Can be either Auto-started or user started. | Can only be initiated by user. |
| Supports triggers: (Create, Delete, Update, Etc.) | No support for triggers. |
| Can initiate child workflow processes. Child Dialogs cannot be launched via a workflow. | Can initiate both child workflows and child Dialogs. |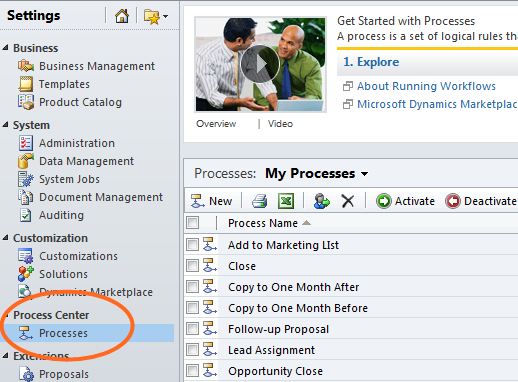 Dialog Basics
Before you design a dialog, let's talk about some of the basics. Dialogs are processes that are designed the same way as workflows. (Navigate to Settings – Processes) The Dialog editor is basically the same as the Workflow editor, but includes additional features specific to dialogs. One of the additional features in the Add Steps dropdown is the Page step. Page is where you create the screens that will act as the interaction points to guide the user through the dialog. On the page design screen, you add prompt and responses to query the user and capture their responses. Pages can have one question or multiple questions based on your needs, but each page requires at least one prompt and response. The responses captured can be stored in the instance of the dialog to update entity information or even passed to other dialogs that need the information.
Another feature unique to dialogs is Query CRM Data. Query CRM data works very similar to Advanced Find. Let's say you have just gotten a new lead that lives in North Dakota, and you want to assign a rep to the lead that works in that region. You can use the query CRM data to populate a drop down box that only includes CRM users located in North Dakota.
Dialogs also can include Input Arguments or Variables. These help to capture information within the dialog that can be used as it proceeds. For example, a call center might have a dialog that drives the direction of a support call based on a client's answers to questions. When a new call dialog is initiated, the rep may capture basic information about them (name, address, contract number, etc.) and then ask them a question to determine the nature of the call. Based on how the client answers the questions, a different dialog is launched that contains specifics for that path. This process can continue until the call is resolved. As each of the different dialogs is launched, input arguments in the new dialog can store values from the previous dialog. That way they can be used in the current one to evaluate items or update data. This concept of child dialogs are a great tool because they provide the ability to centralize dialog logic, and can break up complex dialogs to make them easier to manage. Another nice feature of child dialogs is the ability to link them back to themselves to allow various inputs of information.
Other Dialog Considerations
While dialogs can go a long way in assisting your organization's business process, you do want to take some time to carefully plan out how they will be used. They are very useful, but so are the regular forms in CRM. Don't overdo it. Remember that dialogs should act as a compliment to the forms that you already have in the system. You also want to consider the users that will be executing the dialogs. Since dialogs run as the user initiates them, their security role in CRM needs to allow them the privileges to do the actions the dialog is attempting. Insufficient permissions will cause an error message informing the user that they cannot accomplish that task. Make sure you test dialogs sufficiently before you publish them to an organization.
Dialogs are a great tool to enhance the user experience and assist in capturing data in CRM. If you would like more information on how to use them, please contact a NetWork Center, Inc. Account Executive. We have a variety of training options available to assist you in creating, deploying, and managing Microsoft Dynamics CRM.


­