Over the last two decades, email communication has become one of the most important means of business communication. During this time, we've learned a lot about how end-users typically use this communication both positively and negatively, and how 3rd parties try to exploit it.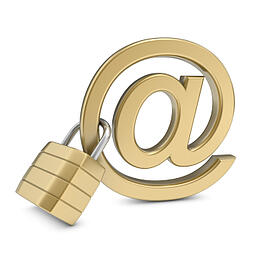 1. Email Communication – Email in the traditional sense is an insecure medium, meaning that your message including attachments can be intercepted and read by 3rd parties on the internet. Think about hackers, scammers, and it's only when we add security layers that we are able to encrypt and secure our messages from end-to-end.
There are other ways we can ensure our communications are secure:
The use of an email encryption service.
Password protecting your attachments with the highest encryption available.
Sharing files using a 3rd party secure file transfer.
2. Email Continuity – What happens if my server crashes? How long will I be without email?
How about if I lose internet connectivity, what happens to my email if it can't get to my server?
By using an email continuity service you greatly reduce if not eliminate the business impact of a server outage. For example, if your central mail server crashes or you lose internet to your mail server and you do not have any kind of email continuity service, you run the risk of mail being extremely delayed, or returned to the sender as undeliverable causing you to lose out on important business communications.
With email continuity, your mail is spooled on a remote server in the cloud, and if your mail server failed, your end users can simply log into a portal to send and receive emails until your email server comes back online, at which time the portal would sync up with your mail server and things would return to normal. If you completely lost internet, those messages destined to your mail server would simply spool up in the cloud as opposed to being returned to sender. Once the internet came back online, that email would slowly be pushed into the mail server and things would return to normal.
3. Data Loss Protection - Ever worry about proprietary business or confidential client data being leaked and end up in the wrong hands?
As much as we trust our end users, mistakes happen. By implementing Data Loss Protection (DLP) you add a layer of security around your information.
How Data Loss Protection (DLP) works: you define a set of criteria that essentially triggers either an email block or email encryption, then your email is handled accordingly. An example of information that would trigger an action could be a bank routing number, social security number, or other keywords that directly relate to your business or industry.
Without this type of protection, you are leaving yourself vulnerable to the human element. We are human, and we make mistakes.
4. Email Archiving – Email archiving can be important for a variety of reasons, and depending
on your industry or even disaster recovery plan, your specific needs could be different. Some specifics are:
Compliance – Banking, Legal, and Healthcare aren't the only industries who should be thinking about email retention periods. Any business could find themselves in a situation where the need to locate and produce an email that happened several years prior. Without it, it becomes the said/she said, and you may be on the losing end of the battle.
Disaster Recovery – Email archiving provides a means in which to recover should the worst happen. Should you find yourself in a situation where you lost both your server and primary backup, an email archiving solution provides another layer of disaster recovery.
Storage – In a data driven world, almost everything is electronic. Wouldn't it be nice to free up costly server space? With archiving you offload data to an environment where someone else is maintaining it, and if/when you require it, you can simply log into a portal to find what you need and bring it back.
With our business and personal lives becoming so dependent on electronic communication, it's imperative that we continually review our email practices. What may have been acceptable 5 years may no longer be relevant, and as laws change, so does our responsibility. Be proactive and protect yourself before it's too late.
Contact NetWork Center, Inc. to review your current email security. Together we can protect your business critical emails.