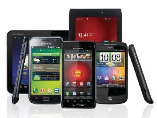 I love my job! I get to meet with a variety of businesses and work with them to make the complicated less complicated. Our conversations cover a broad spectrum including strategy, marketing, business drivers, revenue, cost, efficiency and how it all ties to technology. Over the past 12 months the most consistent topic in these discussions is related to mobile devices and how they fit in this mix. From iPads to smart phones and everything in between, this is the most misunderstood topic I work with.
Unlike most of the technology drivers over the past 5 years, mobile devices are driven from the bottom-up and not from top-down. This brings a whole new dynamic to the problem. We hear more and more of it every day – employees are bringing their cell phones and tablets to work and want to be "hooked up to the network". But with this comes a whole new set of concerns and desires from the business.
Five most common mobility questions we receive:
1. What should I be concerned with when employees ask to connect their mobile devices to our network?
First off, treat the mobile devices like any other laptop. Secure it, manage it, and control it. Your policy and rules for mobile devices may be different for corporate purchased items versus employee owned (BYOD-Bring Your Own Device). This is an important facet to work out.
We recommend you use a robust Mobile Device Management (MDM) solution. The right MDM solution will help you with mobile security– locking the phone, wiping it, black listing applications, and location services. In addition, a good MDM solution will also help with productivity and efficiency – document distribution, app distribution and expense management.
2. How is BYOD different than other technology trends?
Simply put – your employees are driving it. Instead of a master plan to select and deploy a piece of software, your employees are connecting to your wireless network and Exchange server without you knowing about it. They may even have a VPN connection configured. If you don't get in front of it, and a device is lost or hacked, you may face enormous risk.
3. How difficult is it to connect a device to an MDM server?
This is very easy to do! It's designed so someone with very little understanding of technology can simply click 'yes' on a couple of dialog boxes and they're up and running. Once the device is being managed, you've mitigated the security risks and positioned yourself to improve productivity with mobility.
4. Should I worry about how my current website appears on a mobile device?
If you have an active site that customers visit frequently to learn more about your business and how to contact you, YES, you should open it up in a mobile browser and see how it looks.
Is there too much information on the home page?
Do the images run off the side?
Does your site loop while trying to load content?
Is it difficult to navigate to the sub-pages and contact information?
If the answer is yes to any of these questions, there's room for improvement! There are many inexpensive ways to solve this problem. Personally, I can't remember the last time I looked up a website from my desktop – it's all being done from a smartphone or tablet! This will only become more common with your customers too!
5. Should I build a mobile app?
A little background first. An "app" in a native software application built to run on a smartphone or tablet. Angry Birds and Dropbox are examples. Apps can be built for 2 reasons:
Internal use – sharing information, driving productivity, managing costs or expenses, or streamlining processes. The goal of building an app for your employees is realizing the promise that mobile devices will help your workforce be more productive.
For your customers – typically gives you a presence, shares important customer information (think CRM), decreases workload on your customer service reps, and helps drive revenue.
In most situations I'm able to walk my customer through a quick decision tree that helps them determine if an app would be helpful, or if there are other ways to accomplish their objectives.
There are many facets to the mobility trend and how it applies to your business. If you would like to learn more about it, drop us a line. We'd love to help!
Download our Free eBook to learn more about MDM - Mobile Device Management: Guide to the Essentials and Beyond.